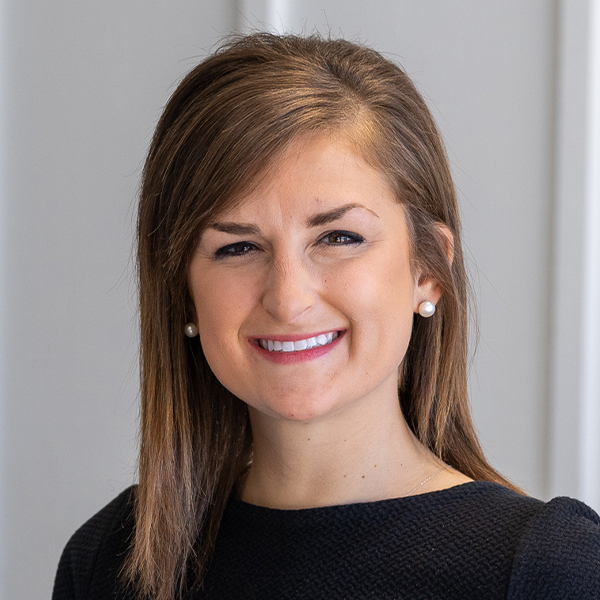 Perrin Duncan
Special Projects Manager
Perrin Clore Duncan is passionate about pursuing a life of purpose and deeply believes in the importance of education and equity.  
She began her role at the Arnall Family Foundation in 2022, primarily focusing on criminal justice reform. As an advocate for inclusive collaboration and innovation she helps ensure the right pieces are in place as we collectively work to improve systemic challenges.  
She graduated Cum Laude from DePauw University in 2017, majoring in Economics and Studio Art and minoring in Spanish. She served as a member of DePauw's Board of Trustees for three years post-graduation. Perrin completed her Master of Fine Arts from the Burren College of Art in County Clare, Ireland in 2019, and has exhibited her artwork in galleries and publications nationally and internationally. 
She began her career managing Marketing and Communications for JUMP! Foundation, based in Bangkok, Thailand. Upon her return to Oklahoma in 2020, she worked at the Greater Oklahoma City Chamber where she led the United Way campaign and earned the Employee Campaign Coordinator Rookie-of-the-Year award for the fundraiser's success. 
Perrin is an avid cyclist, runner, and outdoor enthusiast. She is an ambassador for Newton Running and The Feed, a member of the Red Coyote Racing team and a member of OKC Velo and Team Staplegun. In August of 2020, Perrin hiked the 500-mile-long Colorado Trail. She's proudly certified as a Wilderness First Responder. 
Perrin is a member of Leadership Oklahoma's LOYAL Class XVII, the Downtown Club of Oklahoma City, VEST, and ULI Oklahoma. She currently serves on the boards of Bike Club OKC and Oklahoma City Public Schools Foundation YP4Kids! Board.  
At the core of her identity, Perrin has a deep commitment to community, her family, and to being an empathetic and compassionate friend to all.