Violent Crime is Declining in OKC
What does this really mean?
Violent crime is surging across the nation, yet Oklahoma City's violent crime rates have dropped over the past several years. This decrease of violence in our community is hopeful, but what do the numbers really indicate? What should our community understand about violent crime?
These questions are just the beginning of the conversations we need to have to promote sustainable change toward greater levels of safety and success for our community as a whole. The positive momentum we are witnessing must be met with an understanding of how we can support it and ensure we incrementally raise the quality of our public safety.
Positive outcomes require a continued investment from a variety of stakeholders. When law enforcement, city leadership, diversion integrators, activists, and community members share an understanding of a path toward success, we all benefit. 

Let's start with the basics

:

What is violent crime?

 
Violent crime typically includes offenses that cause (or threaten) bodily harm against another person or group of people. Murder, rape, robbery, and aggravated assault are all examples of offenses considered violent across the United States. Property crime is also considered violent in some cases.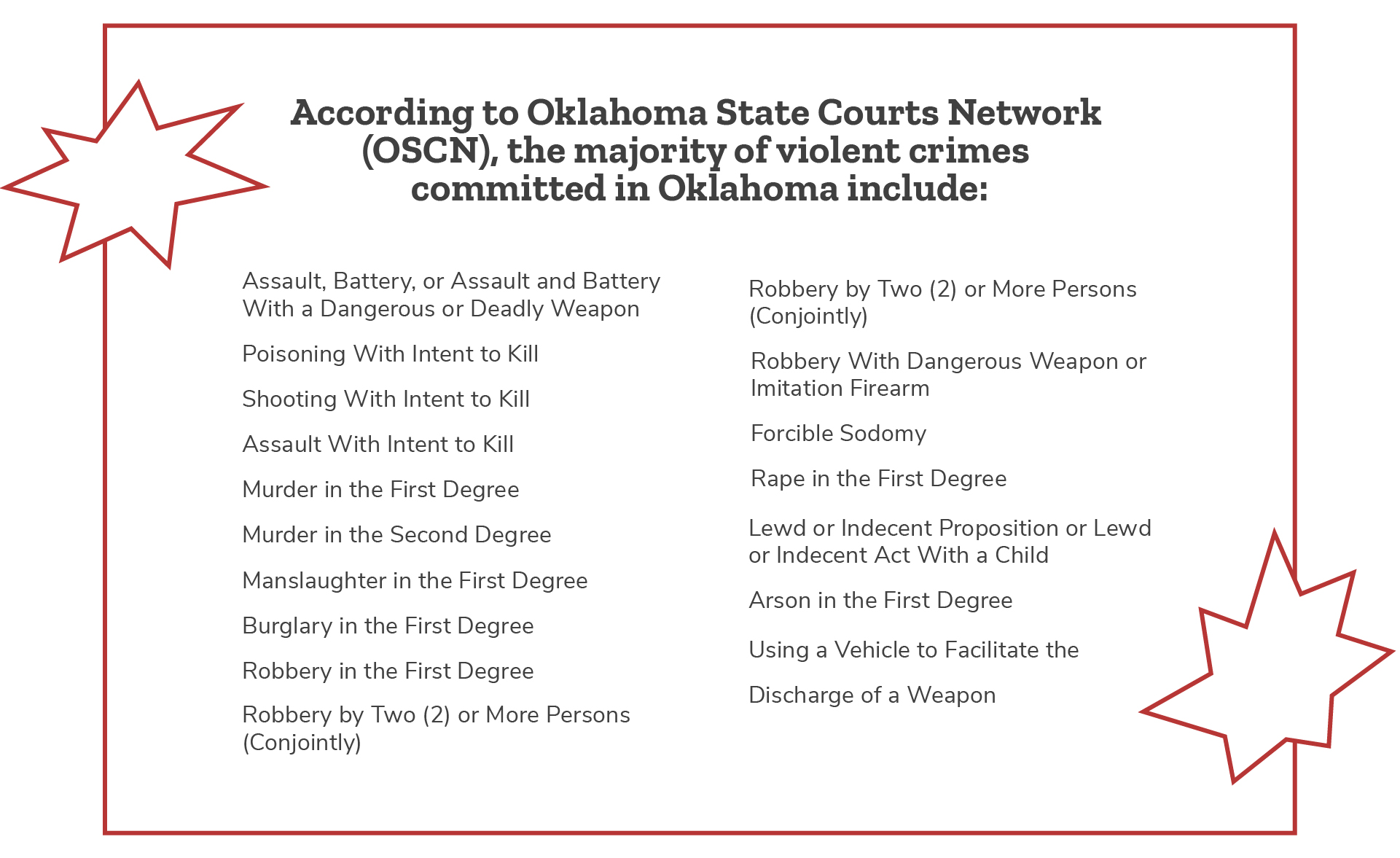 While violent crimes are defined and codified in Oklahoma statutes, the way violent crime is measured and reported may be different depending on who is doing the report. Before 2021, the FBI's Uniform Crime Reporting Program (UCR) accepted data via the Summary Reporting System (SRS). Now, the FBI only accepts incident-based reporting data. The SRS, only collected data for 8 crimes and there are rules in place to determine which offense would be reported if there was more than one offense that occurred during an incident. The Incident-based system collects data for 53 different crimes and allows reporting for up to ten offenses in a single incident. The State Incident-Based Reporting System (SIBRS) also collects information relating to the victims, offenses and offenders. There's more information about the difference between these two measurement systems and who contributes to these data collection systems here.  
According to data from the FBI's Uniform Crime Reporting Program, violent crime in Oklahoma City most often happens in a residence home location. Victims are often strangers to the offender, according to recorded data (note: crimes can be underreported when the offender and victim have a relationship).  
What is the data showing in Oklahoma and across the country?
Over the past several years, our nation's violent crime rates have steadily grown. This increase may be in part due to the rise in political, social, and economic tensions, which have been intensified by the pandemic in both national and international affairs. Rebuilding trust between stakeholders within communities and emphasizing the importance of public safety measures may provide some of the action-driven solutions our communities need today.  
Contrary to the national trend, Oklahoma County's violent crime decreased from 2018 to 2020, according to the Oklahoma State Bureau of Investigations crime statistics reports. It did rise by less than 1% from 2019 to 2020, but that increase was minor compared to the rest of the country where violent crime rose 5% from 2019 to 2020. 

Oklahoma City Mayor David Holt shared his perspective with our team, "In many cities throughout the nation, violent crime has been on the rise. But in Oklahoma City, we have seen rates of violent crime on the decline since 2017. In early March, Chief Gourley and I went to Miami to share best practices with other mayors and chiefs from around the nation. Others are looking to our city as a model for keeping residents safe."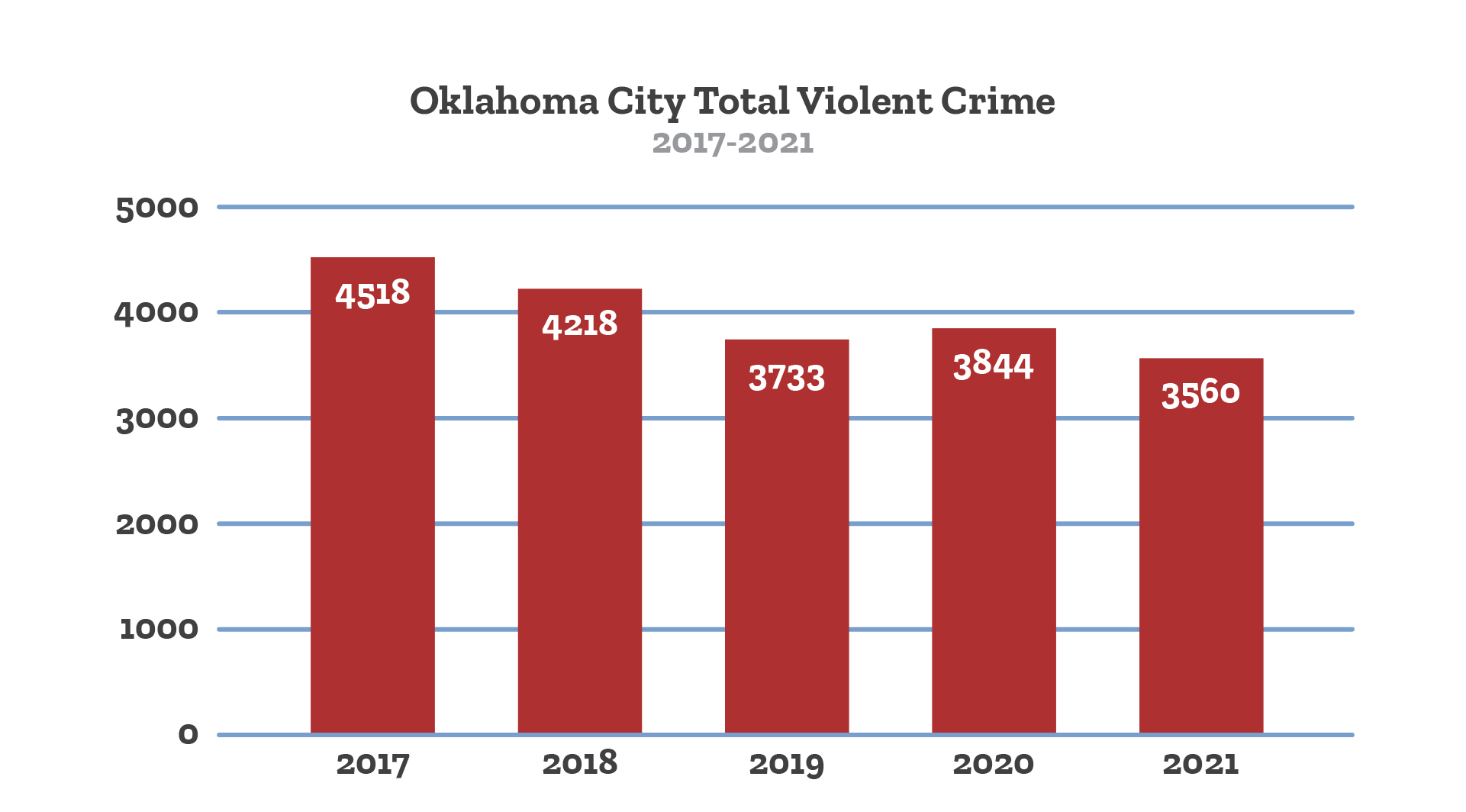 Graph provided by Mayor David Holt courtesy of The City of Oklahoma City 
Though the decreasing rates are promising, Oklahoma City's crime levels remain higher than ideal, indicating that there is still important work to be done.

What is Oklahoma City doing no

w?

 

 
Key initiatives in achieving crime reduction goals within Oklahoma City include the use and expansion of diversion programs and supporting proactive action for violence prevention within our police department and community groups.  
Tim Tardibono, Executive Director of the Oklahoma County Criminal Justice Advisory Council, recently shared with the Arnall Family Foundation team, "If the focus of the justice system is public safety, policy leaders should be directing resources to the programs with the lowest recidivism rates. Public safety is usually better served by directing someone into a diversion or alternative sentencing program instead of just locking them up. Programs also tend to be the most cost effective [method] for the taxpayer." 
It's important to continue supporting and expanding the use of pretrial diversion programs. These programs help decrease jail time and connect individuals with resources that are proven to decrease the appeal of committing offenses. Oftentimes, the level of criminal activity in which an individual is involved does not warrant the punitive action taken against them. In fact, it is most times counterproductive. 
A recent study by Arnold Ventures found, "It is important to offer resources to justice-involved individuals during the pretrial phase. Research has consistently demonstrated that a service-delivery approach to criminal justice—one that emphasizes treatment and support—is far more effective than one based on punishment." 
Some may assume that violent crime is reduced when offenders are placed behind bars, but Oklahoma County's decreasing incarceration rate helps demonstrate that levels of criminal activity and jail populations can and should decline at the same time.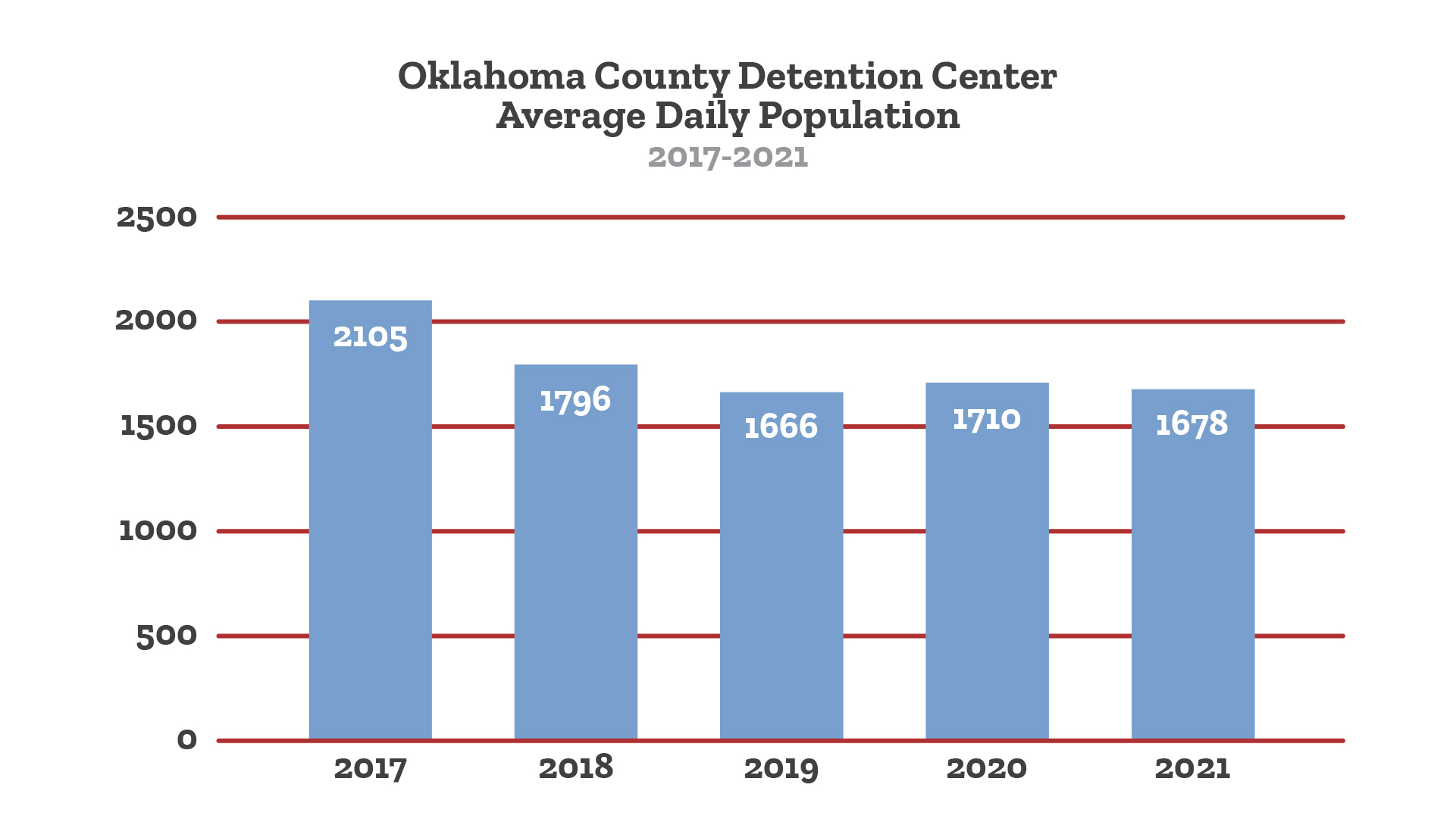 Our community has several successful diversion programs currently in operation. One of the newest diversion programs, Diversion Hub, began serving clients in June of 2020. Diversion Hub connects justice-involved individuals with life-stabilizing resources like shelter, employment, mental health services, substance abuse services, access to public benefits, education, and justice navigation. Oklahoma City citizens overwhelmingly agreed through their commitment to invest in this initiative through MAPS4.  
Other diversion programs in Oklahoma City include TEEM, ReMerge, Mental Health Court, Veterans Court, DUI Court and Drug Court. These programs not only support positive futures for members of our community, they also help reduce crime through providing better options.  
"We know treatment works, rehabilitation works, recovery works," said Tardibono. "People can be redeemed and restored and that is better for public safety. Oklahomans love to give second chances and our justice system needs to reflect that sentiment when it's a good fit."
The work will continue…

We can celebrate the incremental "wins" we are witnessing and creating, but we must commit to ensuring progress continues. In November 2021, 21CP Solutions (a national organization dedicated to making public safety more equitable, integrity-driven, and safe) released an informative document and list of recommendations to improve our law enforcement practices and examine community engagement. The work was divided into four phases, culminating in a final report, which was approved by City Council on March 1, 2022.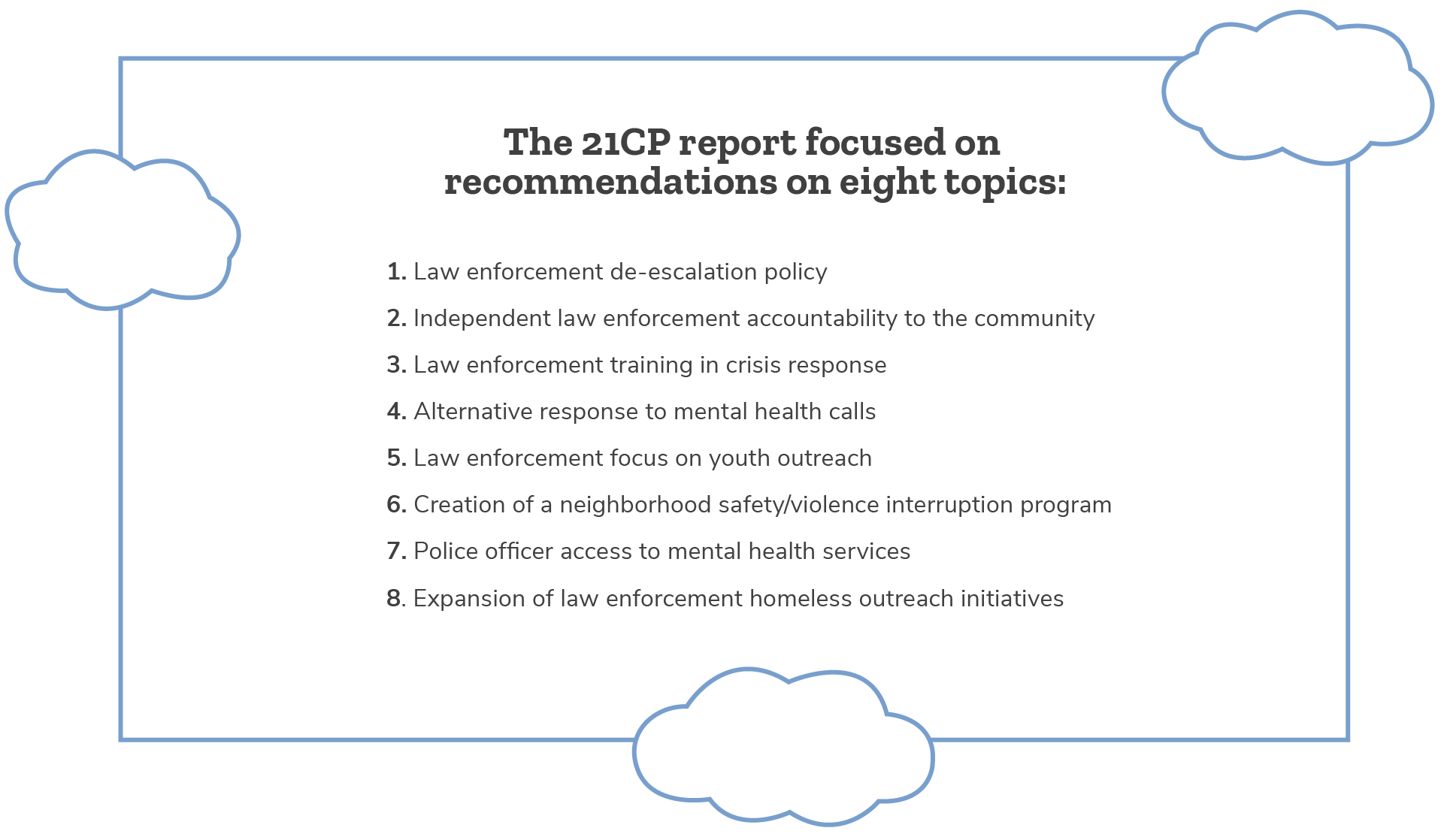 "Our takeaway is that creating accountable, equitable community safety services is not a political issue – it's a practical challenge and getting it right is important to all of OKC," states the report. 
While we continue reducing violent crime in Oklahoma City, it's crucial for all parties to maintain a transparent and educational approach. Consider how you can get involved and help move initiatives from conversation to action.